HEALTH (Index):
Emphasizing Diet, and Compassionate Eating Habits
On any given day, depending on the season, David Allan can be found either mountain biking or cross-country skiing behind his mountain-side home for exercise. He follows a plant-based diet made delicious by the talents of his wife and chef, who also knows a wide array of nature's remedies.
David W. Allan Essays
How What's on My Plate Affects Body, Mind and Spirit
Reversal of Health Challenges and Health Procedures to Counter Aging - How healthy diet and exercise has addressed problems including: arrhythmia; arteriosclerosis; arthritis; debilitating back injury; blood circulation problems; constipation; symptoms of dementia; eye-sight degeneration; overweight challenges; prostate challenges; and excessive epistaxis. (29 August 2008)
How to be Healthy; or How to be sick - the American Way
A review of The China Study, the most comprehensive health report ever compiled. (April 2005)
Vitamin D: To be free from influenza and many diseases - The type of Vitamin D that is so beneficial to the immunity system is activated by exposure to high-angle sun exposure, hence the higher incidence of the flu and cold in the Winter months. Vitamin D3 is usually available in health food stores. Also, a UVB lamp can answer the deficit. (November 20, 2007)
Our Experience with Grapefruit Seed Extract
Chia Seed - A Recently Discovered Super Food that was an Ancient American Food – Organic and all Natural as well (May 16, 2009)
Hormone imbalance; how to overcome this major societal problem (May 22, 2014)
Run and Not Be Weary - EXERCISE is an important part of the Lord's program – Designed to bring Fulfillment and Joy (Nov. 14, 2009)
Am I BORN AGAIN of Body, Mind, and Spirit?
Some Thoughts on A Healthy Diet: The Plant-Centered Alternative
The Abundant Life: Regeneration or Degeneration, Your Choice - based, in part, on the book Brain Longevity by Dharma Singh Khalsa, M.D.
How to BE Healed from Disease - review of great resources
Water, the Remarkable Panacea! - It seems too good to be true that such a simple procedure (drink eight-eight ounce glasses of water a day) could provide such astounding benefits.
The Ideal Meal - Includes a review of two of Michael Pollan books: Omnivore's Dilemma and In Defense of Food, documenting the disaster our industrialized food system has created. (February 27, 2009)
Healing My Back Pain
Edna's Tips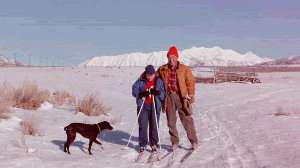 David, Edna and Winnie in their front yard
Supplemental Material
Related Sites:

click here for index of Spiritual Writings by D.W.A.
Page posted by Sterling D. Allan
Page last updated on May 25, 2014
visits since June 25, 2012

Scan Gauge
Plugs in dashboard for instant mpg and other performance data.
Improve your mileage.